WGE Visual Arts Information
2 years ago
Meet the Teacher
My name is Mr. Jessie Welch and I am happy to be teaching Art for a 4th year at Walker Gamble Elementary School. I am a 2009 graduate of Francis Marion University with a Bachelor of Science degree in Art Education. I received my Masters of Education in Teaching and Learning in 2020. I have been teaching Art for 10 years and have worked at the elementary, middle, and high school levels. Each year brings new challenges and provides opportunities to nurture our students' understanding, interest, and involvement in the arts. My goal is to create true, well rounded, 21st century learners.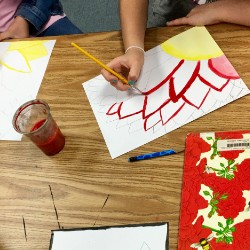 WGE Weekly Wolverine Update
Be sure to watch The Weekly Wolverine Update each Friday! This is a student lead program that highlights events happening at Walker Gamble and the surrounding community. A link to all updates can be found on the schools home page!
Walker Gamble Art Club
Due to COVID 19 restrictions art club has been suspended until further notice.
Art Club began as a 10 member club that meets each Wednesday from 7:15 to 7:55. This year our club membership has increased to 25!
Our purpose is to:
Encourage students to love Art.

Build a positive Arts based culture.

Highlight the talents of ourselves and our peers
Clarendon 3 Arts Guild
The mission of the Clarendon 3 Arts Guild is to promote, sustain and advance the arts in Clarendon County School District Three.